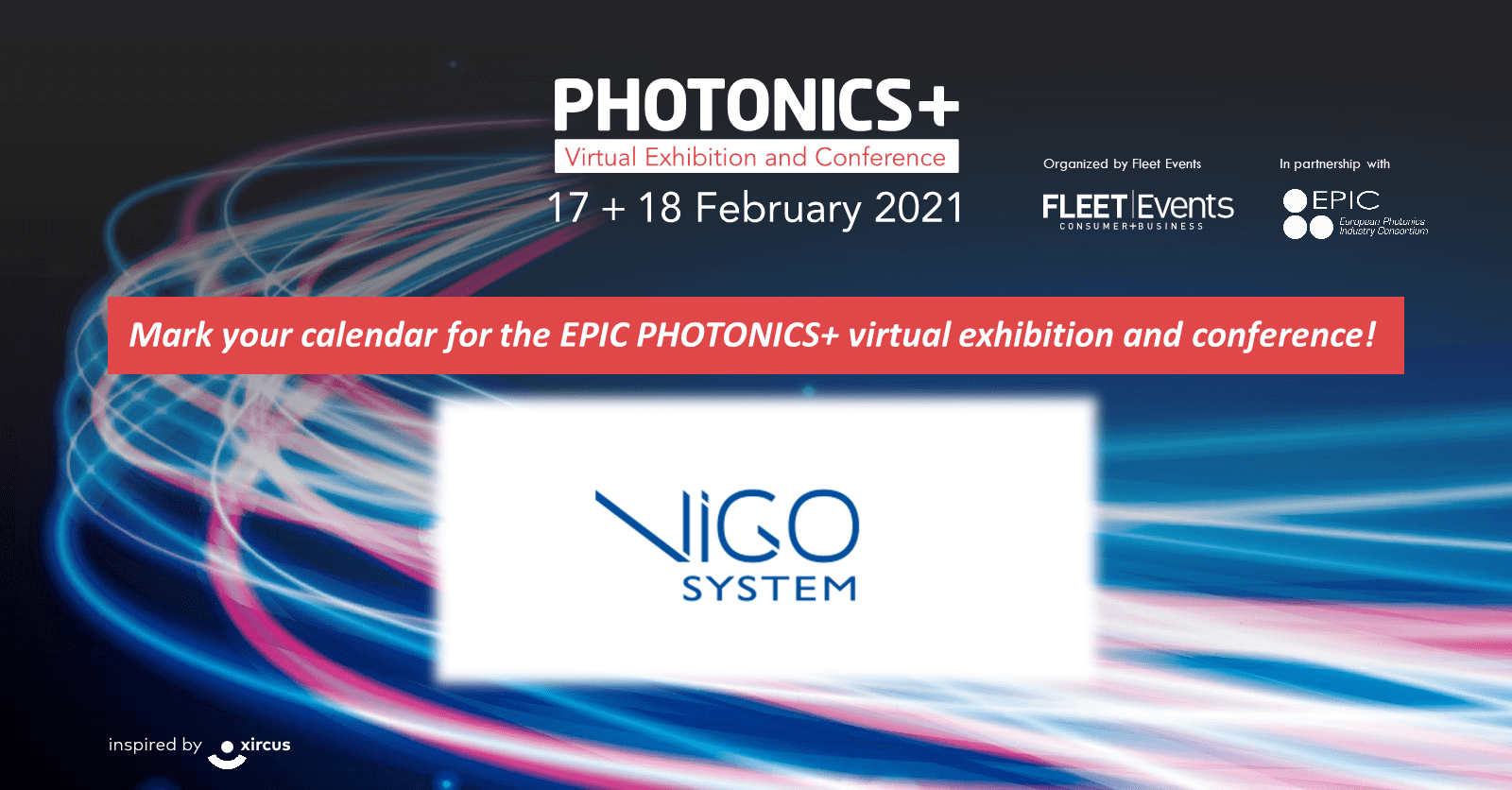 PHOTONICS+ Virtual Exhibition and Conference, in partnership with EPIC, is a new, efficient networking event for the photonics industry due to take place for the first time on 17 + 18 February 2021. The innovative live, digital event brings stakeholders in the photonics industry together with relevant user areas. 30 top keynote speakers will give lectures, 300 exhibitors will introduce themselves using short product presentations, and 1:1 video chats will enable direct contact that facilitates the initiation of new cooperation opportunities and projects.
About our presentation:
Krystian Michalczewski – MScEng Epitaxy Engineer will give talk about RoHS compliant III-V  superlattices detectors. One of the most frequently used materials for the detection of mid-wavelength infrared radiation (MWIR) and long-wavelength infrared radiation (LWIR) is mercury-cadmium-telluride (HgCdTe). Despite of many advantages of this material, hazardous materials are used in the HgCdTe production process. Moreover, EU obliged their union members to reduce certain hazardous substances in electrical and electronic equipment by RoHS (restriction of hazardous substances) directive. For that reason, III-V materials like InAsSb are designated to replace HgCdTe from the market. Unfortunately, the parameters of the devices made of bulk InAsSb are not competitive to HgCdTe devices. Nowadays, due to improvement of epitaxial techniques [especially molecular beam epitaxy (MBE)], the superlattice (SL) concept presented by Esaki and Tsu in 1970 is being again presented as a potential candidate (proved by many scientific papers) to supersede MCT. SL detectors made of III-V materials have stronger covalent bonds to MCT, what results in a higher temperature operating range and better uniformity of the crystal. Additionally the quantum effect in SLs leads to better optical and electrical parameters in comparison to HgCdTe and bulk InAsSb.
On Photonic+ we want to present the current status of T2SL InAs/InAsSb product development for MWIR and LWIR detection, plans for 2021, and comparison with HgCdTe detectors.
Join us to our chatrooms where you can talk about:
IR detectors & modules for spectroscopy and other applications with Jędrzej Mijas – Technical Support Engineer
RoHS compliant III-V  superlattices detectors for MWIR and LWIR detection with Krystian Michalczewski – MScEng
Epitaxy EngineerEpitaxial capabilities of the VIGO Photonics with Jacek Strupiński – Business Development Specialist, MSc
Possibilities of VIGO Photonics products and technology with Marcin Nowacki – M.Sc. Sales Department
Opening Hours
17th & 18th February 2021 12:30-6:30 p.m.
Key Notes17th & 18th February 2021 1:00-6:00 p.m
For free tickets  please contact us: info@vigo.com.pl
Register: https://www.photonicsplus.com/epic/vigo