InGaAs room-temperature photovoltaic infrared detector
PVA-1.7-d1-TO39-wAl2O3-45
PVA-1.7-d1-TO39-wAl2O3-45 is a room-temperature IR photovoltaic detector based on InGaAs heterostructure. It enables the detection of radiation in the range from 0.9 μm to 1.7 μm. The detector is mounted in the TO39 package. The 3 deg. wedged sapphire window protects against mechanical damage and environmental influences. This detector is mercury and cadmium-free and is fully compliant with the RoHS Directive.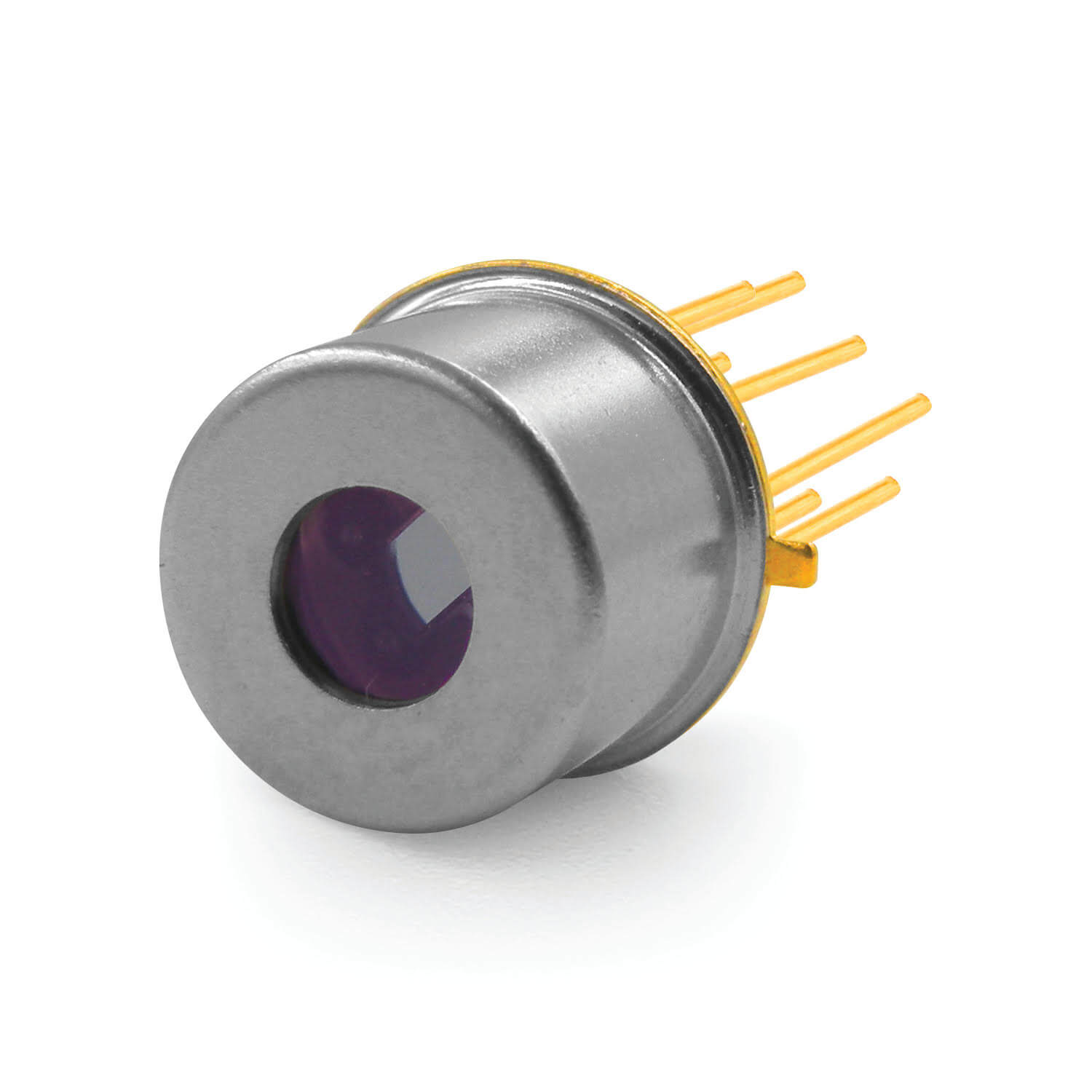 Features
Cut-off wavelength: 1.7 μm
High ambient operating and storage temperature
Long-term stability and reliability
Applications
Lasers and diodes life tests
Detector configuration
Detector type
photovoltaic
Active element material
epitaxial InGaAs heterostructure
Active area diameter, dA
1 mm
Immersion
no
Cooling
no
Package
TO39
Acceptance angle, Φ
~45 deg.
Window
wAl2O3

(3 deg. wedged sapphire)
Specification
(Tamb = 293 K, Vb = -5 V, unless otherwise noted)
Parameter
Value
Unit
Min.
Typ.
Max.
–
Active element temperature, Tchip = Tamb
–
293
–
K
Peak wavelength, λpeak
1.56
1.59
1.62
μm
Cut-off wavelength, λcut-off (10%)
1.69
1.71
–
μm
Detectivity, D* (λ= 1.55 μm, f = 20 kHz)
2.0×1011
6.0×1011
–
cm·Hz1/2/W
Current responsivity, Ri (λ= 1.55 μm)
1.0
1.02
–
A/W
Dark current, Idark
–
–
100
nA
Dark current density, Jdark
–
4.0×10-6
1.0×10-5
A/cm2
Terminal capacitance, Ct
27
30
33
pF
3 dB bandwidth
–
250
–
MHz
Resistance, R
3
–
–
MΩ
Bias voltage, Vb
–
-5
–
V
Spectral response
(Typ., Tamb = 293 K)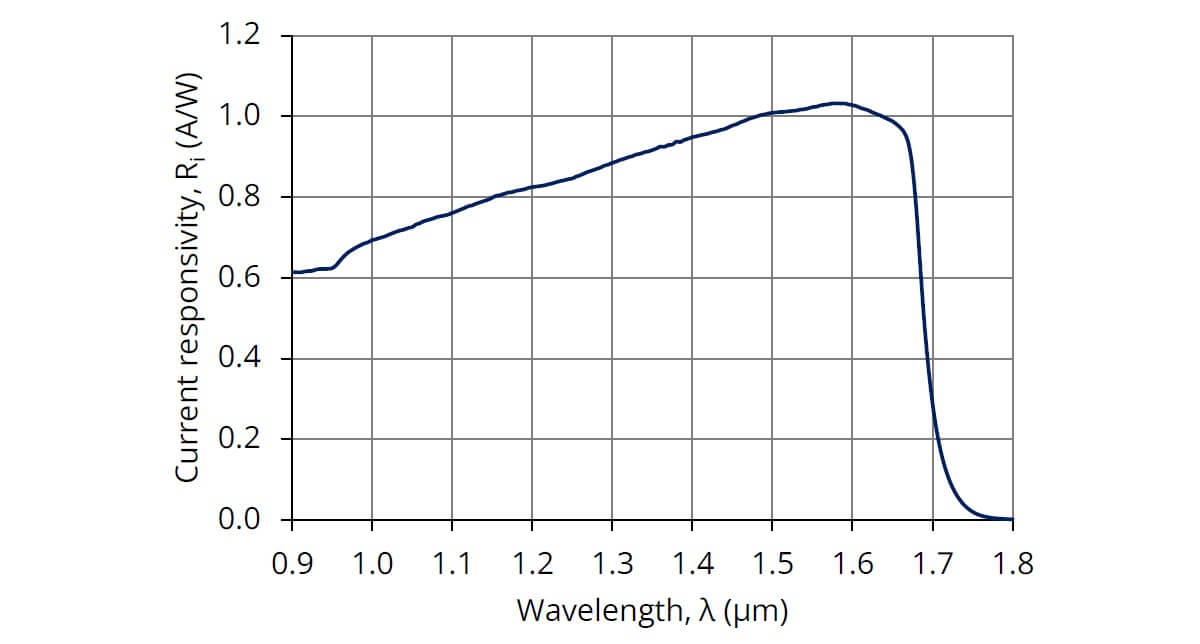 Mechanical layout
(Unit: mm)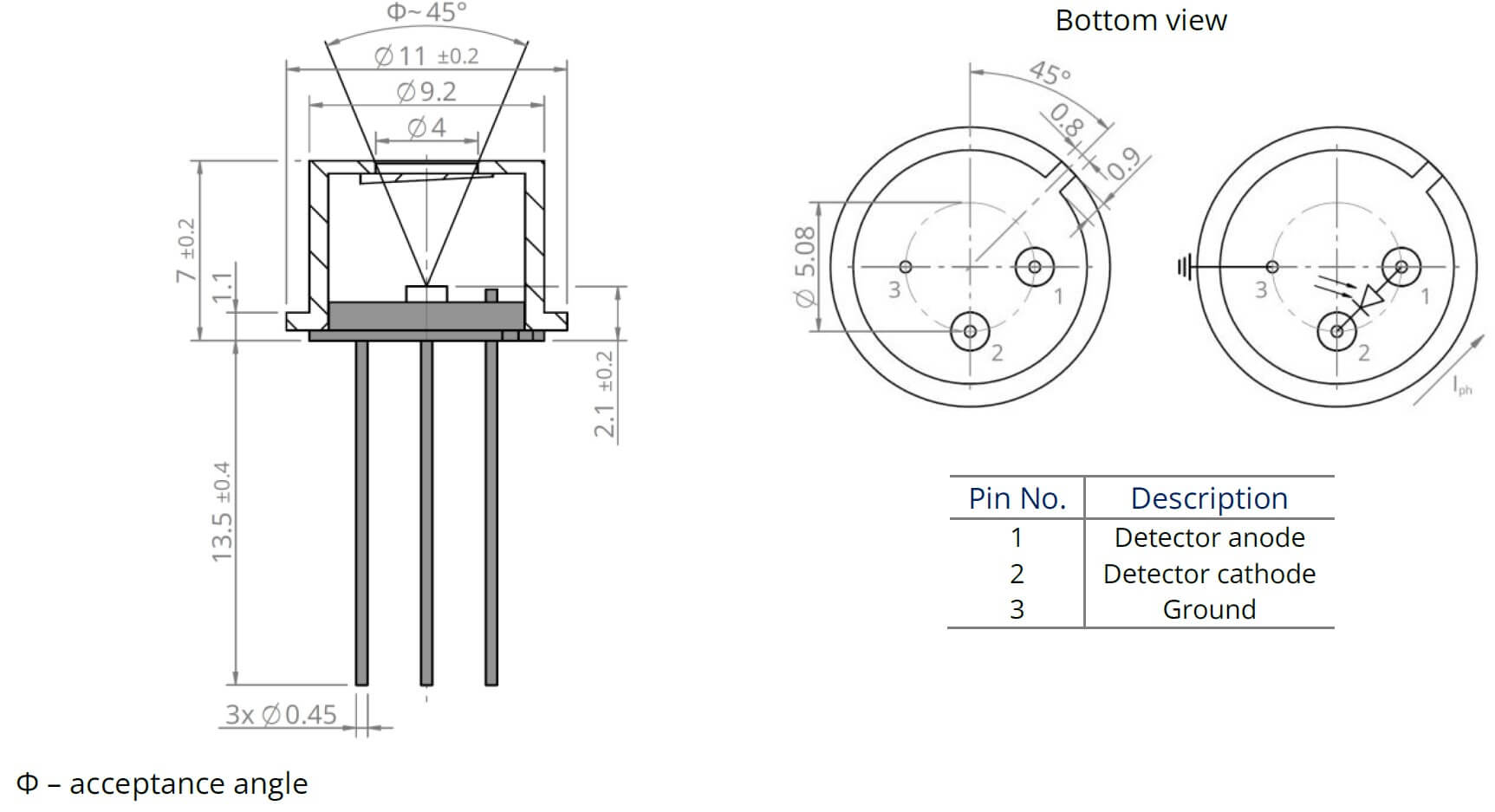 Access to file
Access to this file is limited. In order to download it, please provide all the information and submit the form.
Application notes

Temperature sensor characteristics
Thank you!
This file has been sended to your e-mail.
Contact form
For more information, please contact us directly: