HgCdTe (MCT) Detection Module

LabM-I-6
3.0 – 7.5 µm, over 200 MHz, with optically immersed photovoltaic detector
LabM-I-6 is a laboratory IR detection module with optically immersed photovoltaic detector based on HgCdTe heterostructure, integrated with transimpedance, programmable preamplifier. 3° wedged zinc selenide anti-reflection coated window prevents unwanted interference effects. For proper operation programmable "smart" VIGO thermoelctric cooler controller PTCC-01 (sold separately) and Smart Manager Software (freeware) are required. LabM-I-6 module comes complete with PTCC-01 and Smart Manager is the best solution for prototyping and R&D stage in a variety of MWIR applications. This set provides flexible approach to different needs of system designers.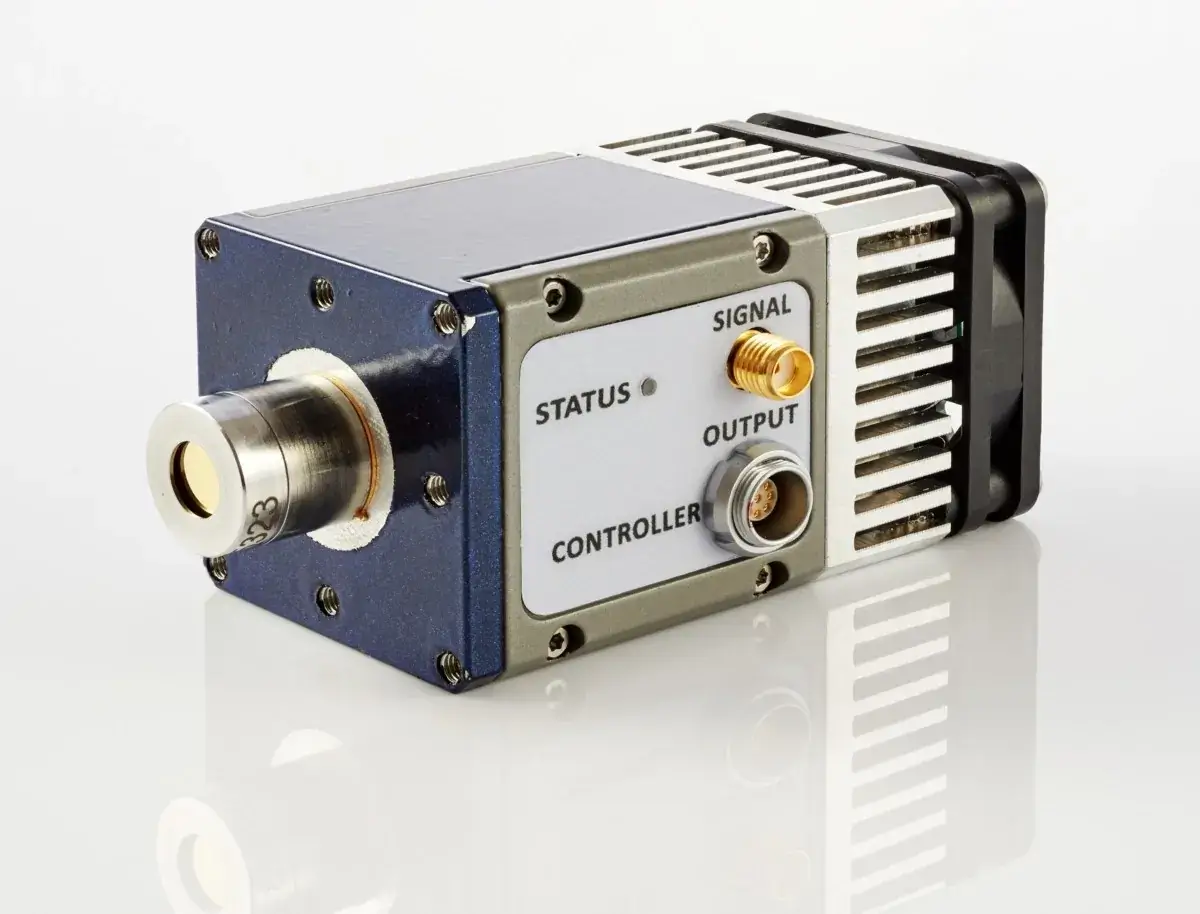 Features
Very high performance and reliability
Configurable bandwidth (1.5 MHz / 15 MHz / 200 MHz)
Compatible with optical accessories
Versatility and flexibility
Quantity discounted price
Applications
MWIR gas detection, monitoring and analysis
Fuel combustion monitoring at power plants and other industrial facilities
Emission control (exhaust fumes, greenhouse gases)
Contactless temperature measurements
Specification (Ta = 20°C, default module settings)
Parameter

Typical value

Optical parameters

Cut-on wavelength λcut-on (10%) µm

3.0±1.0

Peak wavelength λpeak, µm

5.5±0.5

Optimum wavelength λopt, µm

6.0




Cut-off wavelength λcut-off (10%) µm

7.5±0.3

Detectivity D*(λpeak), cm⋅Hz1/2/W


≥8.1×109

Detectivity D*(λopt), cm⋅Hz1/2/W

≥7.2×109

Output noise density vn(10 MHz), nV/Hz1/2

Voltage responsivity R

v

(λpeak), V/W

≥2.3×104

Voltage responsivity Rv(λopt), V/W

≥2.0×104

Low cut-off frequency flo, Hz

10



High cut-off frequency fhi, Hz

≥200M (adjustable)

Output impedance Rout, Ω
50
Output voltage swing Vout, V
±1  (RL = 1 MΩ*))

Output voltage offset Voff, V

max

±20

Active element material

epitaxial HgCdTe heterostructure

1×1

Window


wZnSeAR


Acceptance angle, Φ

~36°

Ambient operating temperature Ta, °C

10 to 30

Signal output socket

SMA

Power supply and TEC control socket

LEMO (female) ECG.0B309.CLN

Mounting hole

M4

Fan

yes

*) R – load resistance
Spectral response (Ta = 20°C)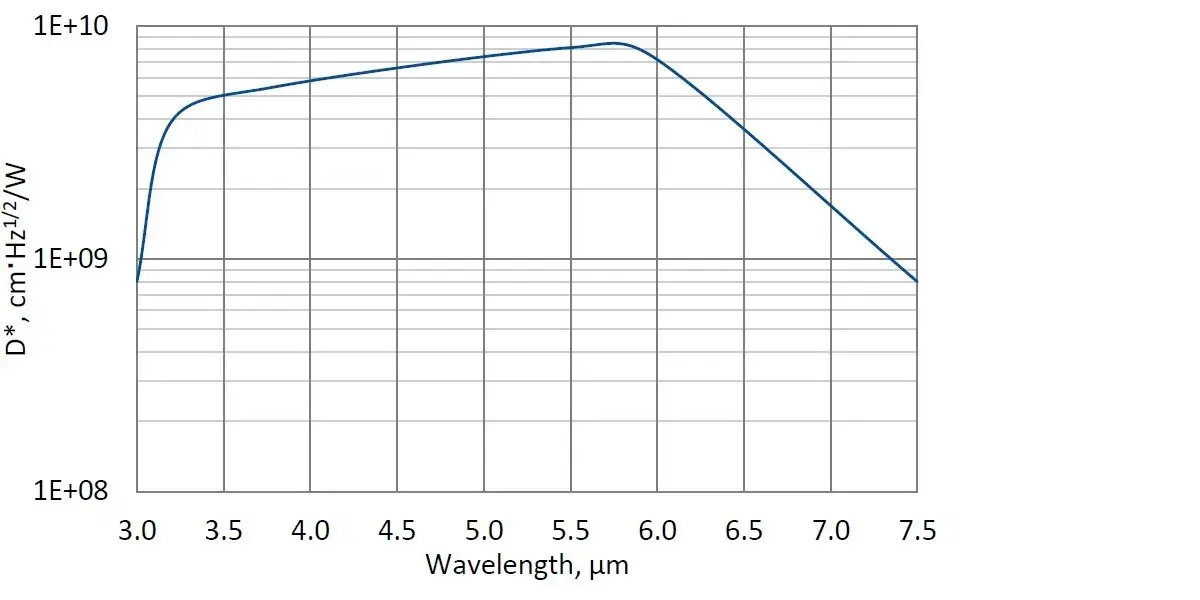 Mechanical layout, mm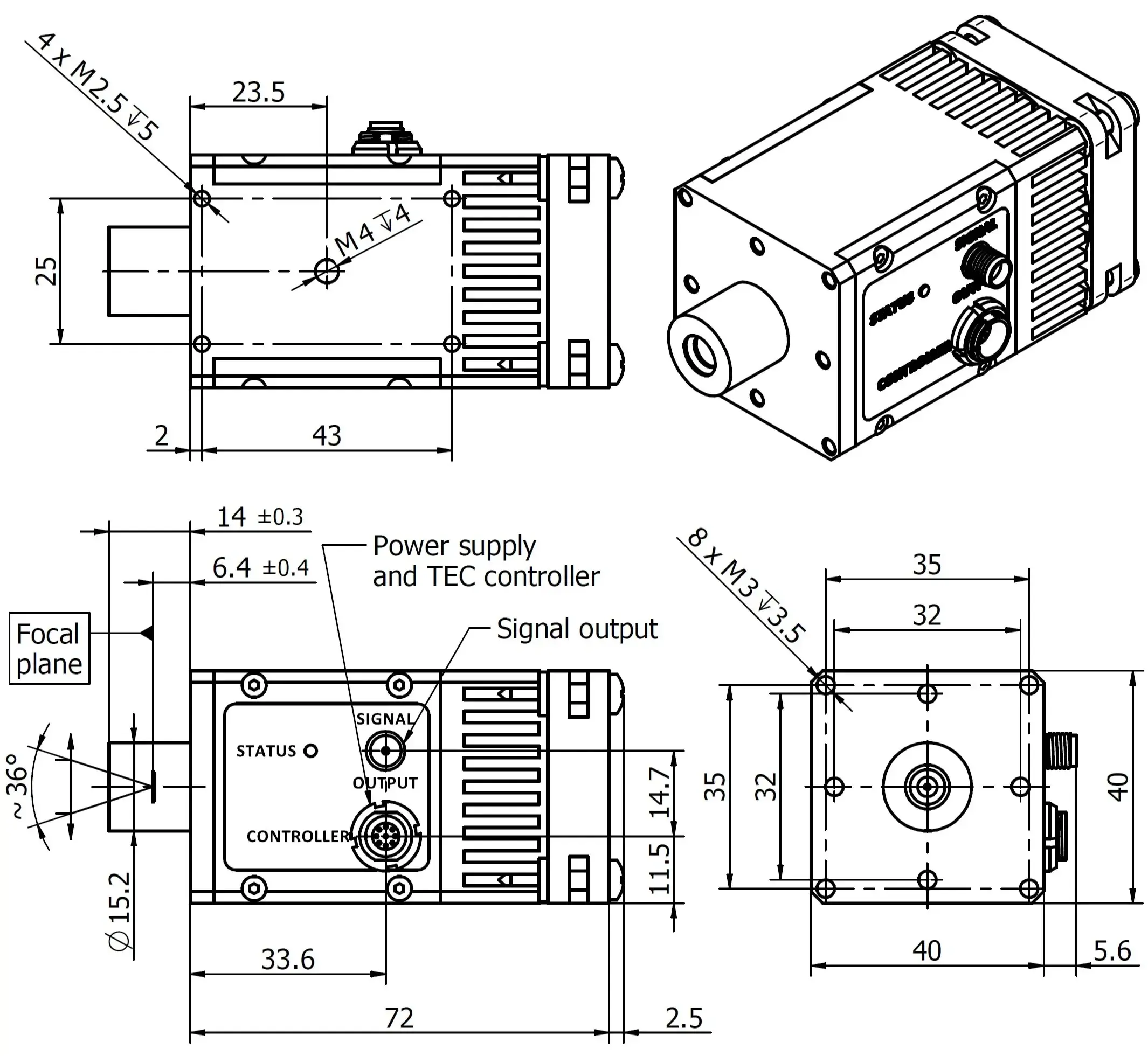 Access to file
Access to this file is limited. In order to download it, please provide all the information and submit the form.
Application notes

Temperature sensor characteristics
Thank you!
This file has been sended to your e-mail.
Contact form
For more information, please contact us directly: