HgCdTe (MCT) 32-Channel IR Detection Module
32EM-5-02
MWIR, with thermoelectrically cooled photovoltaic 32-element linear detector
32EM-5-02 is a 32-channel detection module. Thermoelectrically cooled MWIR HgCdTe 32-element photovoltaic detector with active area of single element 0.1 mm × 0.1 mm is integrated with DC-coupled 32-channel transimpedance preamplifier.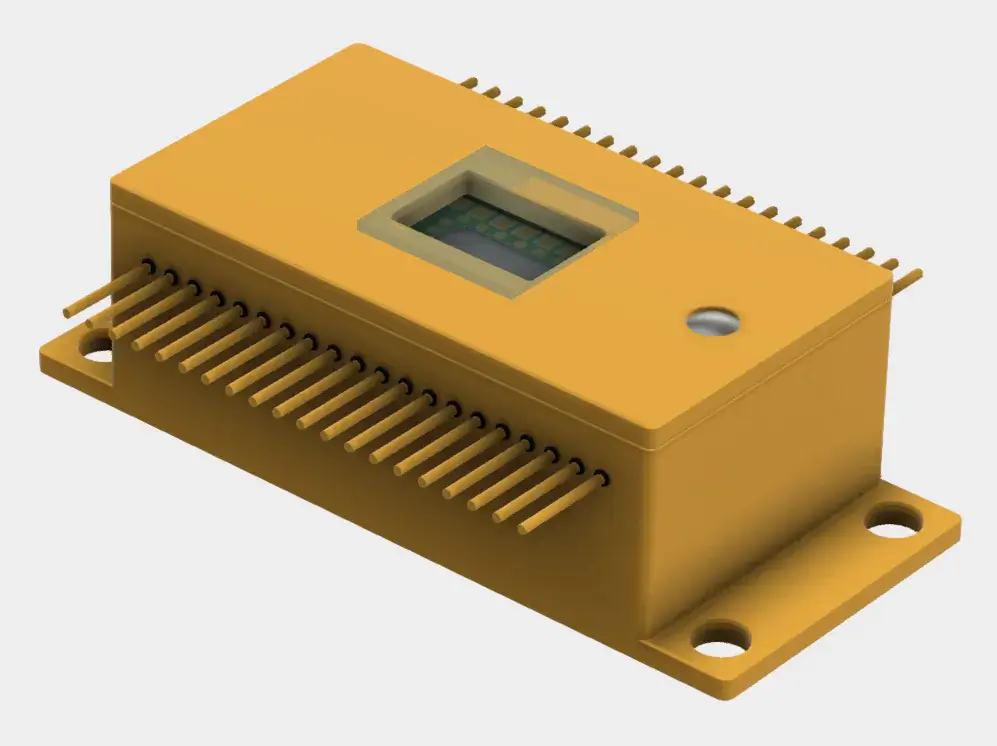 Features
Convenient cryogenic-free operation
External heatsink is necessary (recommended thermal resistance: ~2 K/W)
External TEC controller is necessary
Applications
Spectroscopy (gas detection, breath analysis)
Slow and fast contactless temperature measurement (railway transport, industrial and laboratory processes monitoring)
Laser beam profiling and positioning
Flame and explosion detection
Combustion process control
Specification (Ta = 20°C)
Parameter

Typical value

Optical parameters

Cut-on wavelength λcut-on (10%) µm

3.7±0.2
4.75±0.2

Peak wavelength λpeak, µm

Optimal wavelength λopt, µm

5.0

Cut-off wavelength λcut-off (10%) µm

5.8±0.2
Detectivity D*(λpeak), cm ⋅Hz1/2/W


≥2.4×109

Detectivity D*(λopt), cm⋅Hz1/2/W

≥2.2×109

Electrical parameters

Voltage responsivity Rv(λpeak, RLoad = 1 MΩ), V/W

≥5.0×104

Voltage responsivity Rv(λopt, RLoad = 1 MΩ), V/W

≥4.6×104

Low cut-off frequency flo, Hz

DC
High cut-off frequency fhi, kHz
≥650
Output impedance Rout, Ω
50
Output voltage swing Vout(RLoad = 1 MΩ), V
-1

(negative output)

Output voltage offset Voff, mVDC

max -200

Power supply voltage Vsup, VDC

+5

Other information

Active elements material

epitaxial HgCdTe heterostructure

Number of elements

1×32 linear array

Active area of single element A, mm×mm

0.1×0.1

Distance between active elements, μm

50

Window


pAl2O3AR

Acceptance angle, Φ

~70°

Ambient operating temperature Ta, °C

10 to 30
Spectral response (Ta = 20°C, Vb = 0 mV)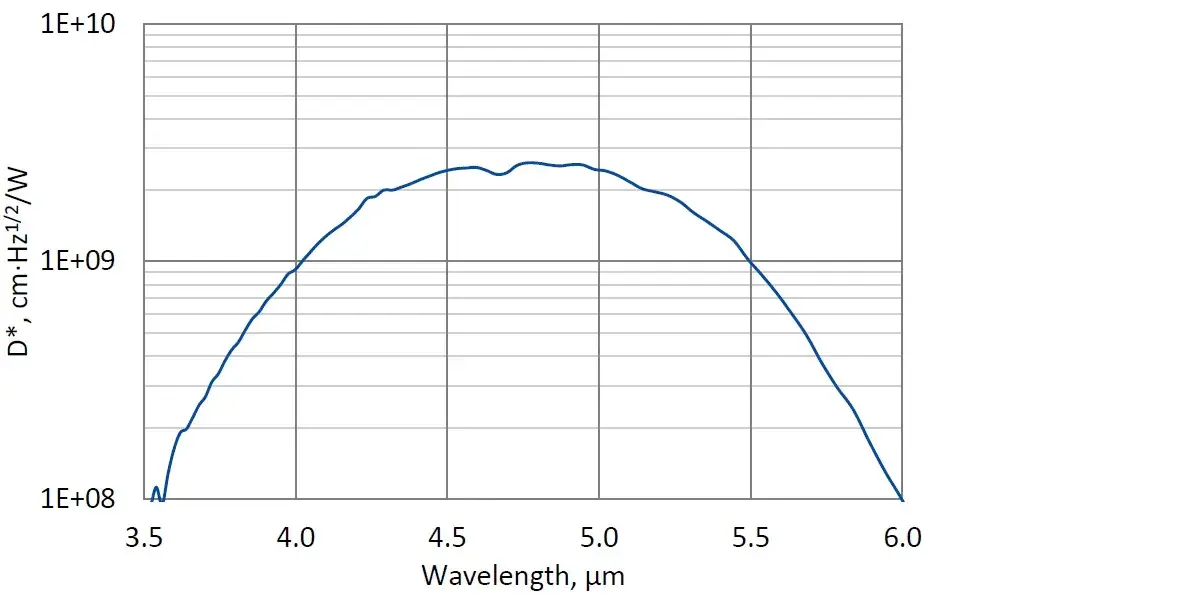 Mechanical layout, mm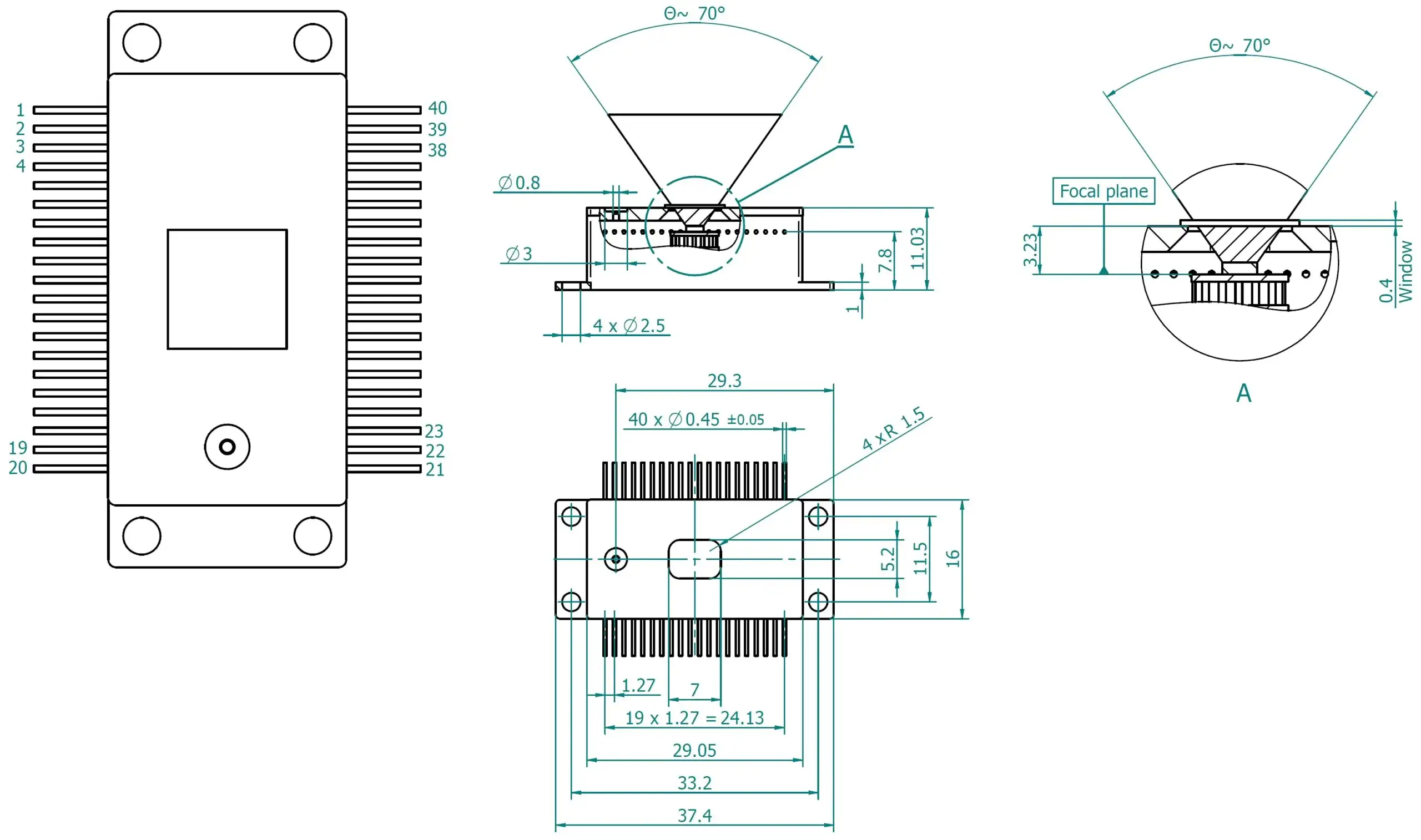 Access to file
Access to this file is limited. In order to download it, please provide all the information and submit the form.
Application notes

Temperature sensor characteristics
Thank you!
This file has been sended to your e-mail.
Contact form
For more information, please contact us directly: