HgCdTe (MCT) Detection Module

UM-10.6
2.0 – 12.0 µm, DC – 70 MHz, with photovoltaic multiple junction detector
UM-10.6 is an universal "all-in-one" IR detection module. Thermoelectrically cooled photovoltaic detector, based on HgCdTe heterostructure, is integrated with transimpedance, DC coupled preamplifier, a fan and a thermoelectric cooler controller in a compact housing. 3° wedged zinc selenide anti-reflection coated window prevents unwanted interference effects. UM-10.6 detection module is very convenient and user‑friendly device, thus can be easily used in a variety of LWIR applications.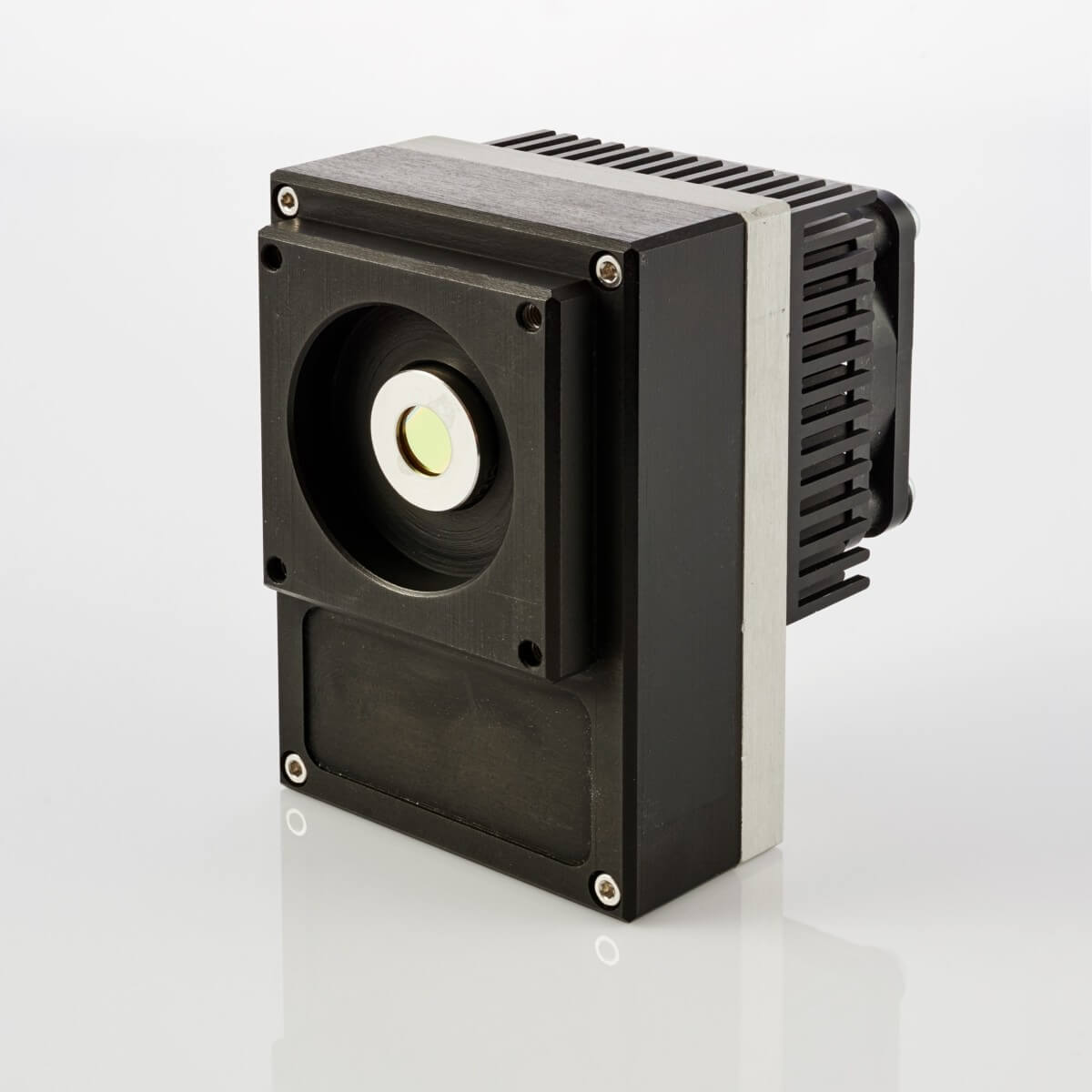 Features
Integrated TEC controller and fan
Sensitive to IR radiation polarisation
Optimised for effective heat dissipation
Compatible with optical accessories
Cost effective OEM version available
Quantity discounted price
Applications
Gas detection, monitoring and analysis
CO2 laser (10.6 µm) measurements
Laser power monitoring and control
Laser beam profiling and positioning
Specification (Ta= 20°C)
Parameter

Typical value

Optical parameters

Cut-on wavelength λcut-on (10%) µm

≤2.0

Peak wavelength λpeak, µm

9.3±2.0

Optimum wavelength λopt, µm

10.6




Cut-off wavelength λcut-off (10%) µm

≥12.0

Detectivity D*(λpeak), cm⋅Hz1/2/W


≥5.0×107

Detectivity D*(λopt), cm⋅Hz1/2/W

≥4.0×107

Output noise density vn(1 MHz), nV/Hz1/2

Voltage responsivity R

v

(λpeak), V/W

≥1.6×102

Voltage responsivity Rv(λopt), V/W

≥1.0×102

Low cut-off frequency flo, Hz

DC



High cut-off frequency fhi, Hz

≥70M

Output impedance Rout, Ω
50
Output voltage swing Vout, V
±2 (RL = 1 MΩ*))

Output voltage offset Voff, V

max

±20

Power supply voltage V sup, V

+5


DC monitor (approx. 0 V offset)

Voltage responsivity R

v

(λpeak), V/W

≥3.6×101

Voltage responsivity Ri(λopt), V/W

≥2.4×101

Low cut-off frequency flo, Hz

DC

High cut-off frequency fhi, Hz

150k

Active element material

epitaxial HgCdTe heterostructure

1×1

Window


wZnSeAR


Acceptance angle, Φ

~70°

Ambient operating temperature Ta, °C

10 to 30

Signal output socket

SMA

DC monitor socket

SMA

Power supply socket

DC 2.2/5.5

Mounting hole

M4

Fan

yes

*) R – load resistance
Spectral response (Ta = 20°C)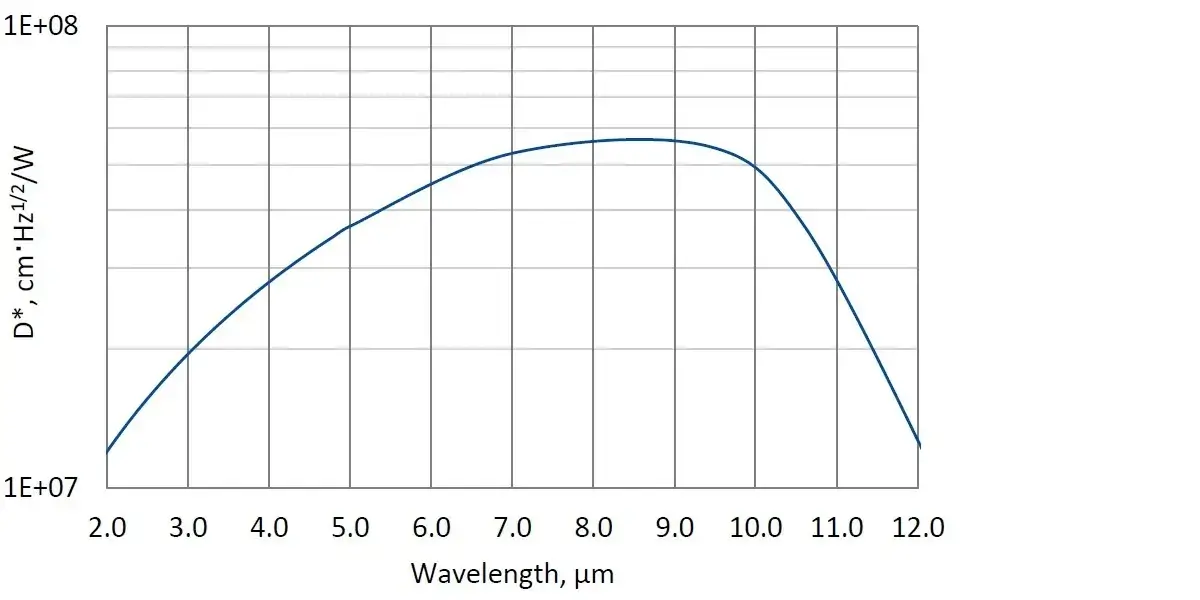 Mechanical layout, mm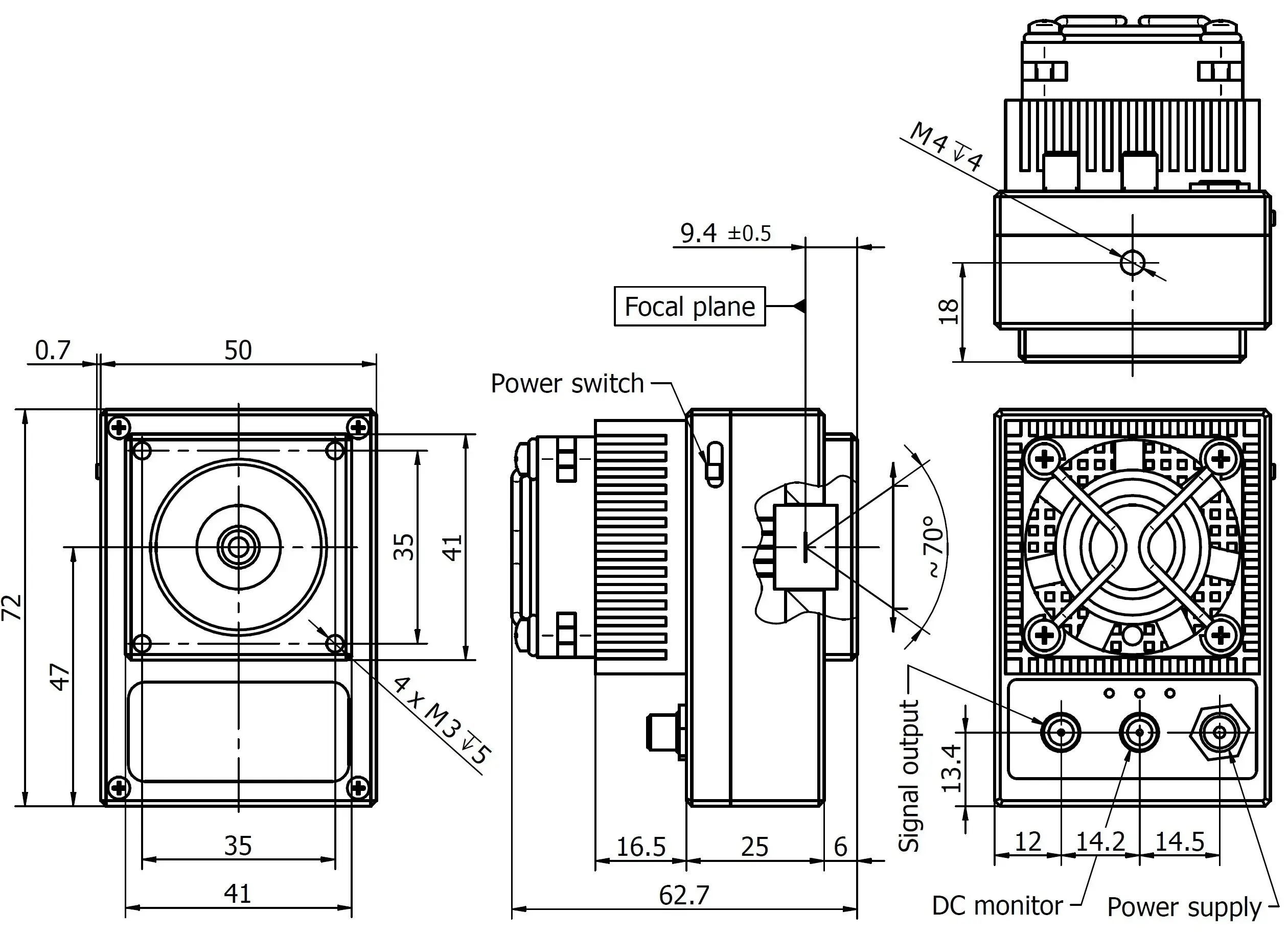 Access to file
Access to this file is limited. In order to download it, please provide all the information and submit the form.
Application notes

Temperature sensor characteristics
Thank you!
This file has been sended to your e-mail.
Contact form
For more information, please contact us directly: