InAsSb Photovoltaic Detector

PVIA-2TE-5-1×1-TO8-wAl2O3-36
2.6 – 5.3 µm, two-stage thermoelectrically cooled
PVIA-2TE-5-1×1-TO8-wAl2O3-36 is a two-stage thermoelectrically cooled IR photovoltaic detector based on InAsSb alloy, optically immersed in order to improve performance of the device. It does not contain mercury or cadmium and is complying with the RoHS Directive. 3° wedged sapphire (wAl2O3) window prevents unwanted interference effects.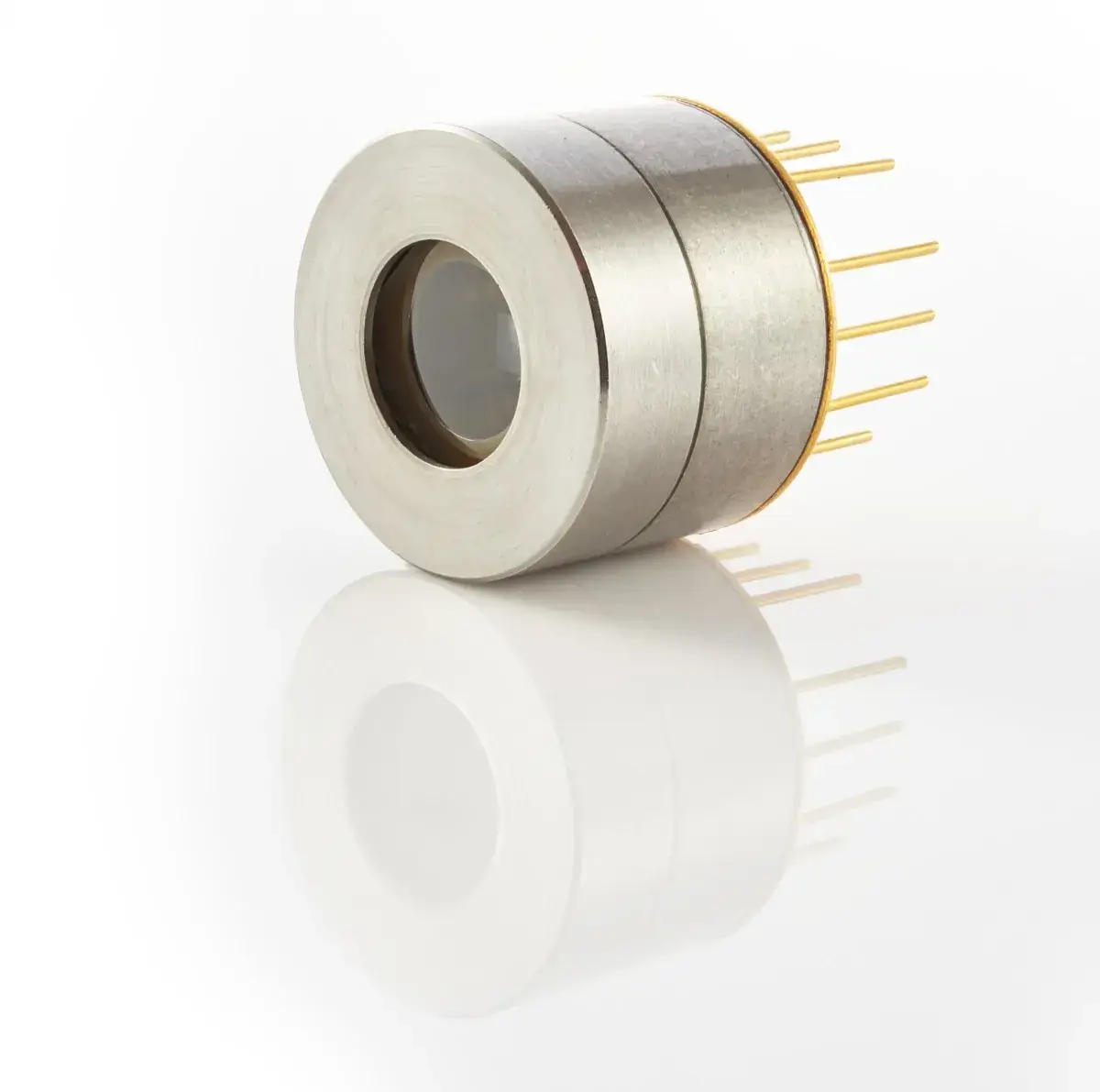 Features
High performance in the 2.6- 5.3 µm spectral range
Two-stage thermoelectrically cooled
Complying with the RoHS Directive
Hyperhemiimmersion microlens technology applied
Specification (Ta = 20°C, Vb = 0 mV)
Parameter

PVIA-2TE-5-1×1-TO8-wAl2O3-36

Active element material

epitaxial InAs heterostructure




Cut-on wavelength λcut-on (10%), µm

≤2.6




Peak wavelength λpeak , µm

4.5±0.6

Cut-off wavelength λcut-off (10%), µm

≥5.3

Detectivity D*(λpeak), cm⋅Hz1/2/W


≥4.0×1010

Current responsivity Ri(λ

peak

), A/W

Time constant τ, ns

≤5




Resistance R, Ω

≥1.0k




Active element temperature Tdet, K

~230K

Optical area AO, mm×mm

1×1




Package

TO8

Acceptance angle, Φ

~36°

Window

wAl2O3

Spectral response (Ta = 20°C, Vb = 0 mV)
Mechanical layout, mm
Access to file
Access to this file is limited. In order to download it, please provide all the information and submit the form.
Application notes

Temperature sensor characteristics
Thank you!
This file has been sended to your e-mail.
Contact form
For more information, please contact us directly: